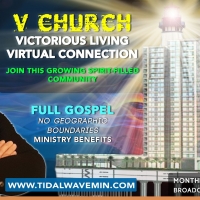 V-Church Coming Soon 2021
By dave | January 25, 2021
We have been praying into this next "shifting in the shaking" that has come upon the whole world in this unprecedented time! We have been pushing our way through to touch the Lord and keep His ministry going in the midst of great trials all around! In the next few weeks, we will be starting a vastly different approach to ministry and the strategy behind how we do ministry moving forward into the next decade! This is a major adjustment and a complete lane shifting that is directly from the Lord. This had been bathed in prayer for over two years as we have endeavored to follow God's leading for TWMI international. There is so much to share, I am finding it a bit difficult how to roll it out and launch it to everyone. I believe it will be a somewhat slow roll out little by little, one step at a time. But for those that are with us, you too will see the battle plans and mission of the Lord from a clear perspective as it all unfolds.
It is basically in a three-part strategy, to begin with, in this NEW DIRECTION of the Lord, of which, everyone will have the opportunity to be as involved as you want to be. If you want to be in the front row you may, and for the more shy folks, you can "sit" in the back row and just soak it all in. As always, there will be no pressure here. No man-ipulation. No control. Just freedom in the Holy Spirit with God's order helping you to grow in your walk with our Heavenly Father. There is so much to share, so only briefly, here are the three ways you can get involved that we will be launching shortly. Stay tuned for the sign-ups coming soon...

1. Online Interactive Meetings
-Larger Live Streams, War-ship, Fresh Word,
with Prophetic Prayer Ministry

2. Smaller Private Zoom Gatherings with more
one-on-one ministry, mentoring, training, as iron
sharpens iron...

3. Once a Month to start: live and in-person meetings on
a local level and also at neighboring regional
locations at Holy Spirit friendly churches and fellowships or other venues
as the Lord leads... we are looking into several possibilities.

Please keep this all in prayer and also if you would be one to be a part
of this Holy Spirit, frontlines ministry. More details to come... stay tuned.
Back