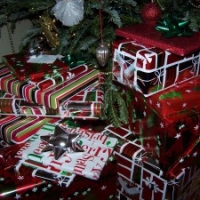 The Gift Exchange of Heaven
by David Lebo | December 24, 2013
It is hard to believe another year is at it's end. Time really does fly by! I am reminded that we are only here for a little while, how much more to make the most of every day– it is a gift from God.
During this holiday season, during my prayer time my thoughts have turned toward the meaning of Christmas. I know this can be a very vast subject and widely debated, but I will give you my thoughts. In our American culture, there seems to be a shifting away from celebrating the arrival of the Christ child to earth, to one more of buying presents, getting gifts, profits for businesses to save their end of the year earnings, advertising, sales, and great end of the year bargains! Even among devout Christians, it is a struggle to keep our focus.
As kids it seems that we were all about the "getting"; then as adults we are focused, perhaps, a little more on what we are buying for everyone else on our lists to keep it all under a certain budget. So there is this exchange of gifts that is an expression of something invisible becoming tangible. Some people are better at giving than others and would buy everyone a gift if they could with no thought of themselves; while some would just like to get the gifts all the time and nothing more said.
My thoughts keep going back to the manger scene where there was the most extraodinary gift exchange that was taking place right under the world's nose. The Almighty God of Heaven– El Elyon– the possessor of heaven and earth– the God who owns everything– was giving everything that He had through his son Jesus; while at the same time wise men from the east were bringing gifts to Jesus– the king of all kings! Wow, what an amazing picture! The invisible love of the Father becoming visible in the expression of a baby lying in a manger. A baby that would bring salvation and so much more to the whole world!
Luk 2:10-14 Then the angel said to them, "Do not be afraid, for behold, I bring you good tidings of great joy which will be to all people. For there is born to you this day in the city of David a Savior, who is Christ the Lord. And this will be the sign to you: You will find a Babe wrapped in swaddling cloths, lying in a manger." And suddenly there was with the angel a multitude of the heavenly host praising God and saying: "Glory to God in the highest, And on earth peace, goodwill toward men!"
Even today, God is trying to give everything that He has to us in the "Gift Exchange of Heaven" through His son Jesus, but many times we don't like the wrapping paper, or the packaging that the gift comes in, or even don't like who it is that is giving it to us; so many times over and over, we are rejecting the gifts and blessings that an Almighty God in Heaven is trying to give to us! The problem here lies not in the great giver, but in the receiver! Would you or have you ever given back a Christmas gift that someone was trying to give to you? Maybe in a few special cases, but for the most part, probably not! It is most fitting to except the gift with a grateful heart as not to offend or hurt the one doing the giving!
My heart is somewhat greived for the church today knowing that El Elyon is tying to pour out all that He is and ALL that He has upon us when we don't want what he has to offer! It's like getting a gift for Christmas and then putting it on a closet shelf, unopened, forgotten, never used, never knowing what could have been done, or who could have been blessed with what was inside that package– never even knowing what it was! The church today is doing this spiritually every day! Not just one day a year!
Don't miss the "Gift Exchange of Heaven" this year or any year from here on out! Open your hearts and minds to recieve all the gifts and blessings that God has for you in this lifetime! Don't reject a single one– even if you don't like the packaging! First accept Jesus into your heart, then all the other blessings come through him! Jesus said in John 10:9,
"I am the door. If anyone enters by Me, he will be saved, and will go in and out and find pasture."
Jesus is the door through which all of Heaven's blessings can now come to you! But you have to give it all to get it all. That's the exchange! As El Elyon, the one thing that doesn't belong to God is the hearts and souls of men. They have to be given back to God by an act of our own will ! In exchange for all that God has to offer, all he is asking for in return is YOU! What can I give God for Christmas this year? A God who has everything? All He wants is Just You!!! With that, He gets everything else! 100% devotion!! Not a bad deal !!!
Give All of Yourself over to God this Christmas! Stop hanging onto the things of this world that are only passing away. Then, get ready for all of Heaven to begin to be poured out back down upon your life! Receive. Receive. Receive with joy all that God has for you! You can shout, "hallelujah" here if you want! Participate right now, in the greatest gift exchange of all…

Merry Christmas...